I've spotted little flashes of soft pink and purple in my back garden in the past few days, glad to see the return of some of the wildflowers which will help the local pollinator population.
It's No Mow May, which is a great initiative for improving biodiversity and encouraging homeowners to do their bit to help bees and other pollinators. It's a very appealing opportunity to be lazy in order to benefit wildlife – basically all you have to do is… nothing! Just don't mow your grass for the month of May, allowing daisies, dandelions and other wildflowers, which would otherwise be razed, to spring up. This then provides a feast for bees, butterflies and other insects during spring and early summer as they feast on the pollen and nectar provided by lawns full of flowers.
There's evidence that bees and other pollinators are in decline; we've also lost nearly 97% of flower rich meadows since the 1970's. However, there's a patchwork of gardens across Britain, which has the potential and the plant diversity to provide a feast for our struggling insects.
Daisies, dandelions, clover, buttercups, self-heal, speedwell, ladies' smock… these are all the wildflowers – not weeds – which spring up in my garden when left unchecked. When you think of them as wildflowers, and not weeds, and you consider how pretty they really are, it's much easier to keep the lawnmower tucked away in the shed. Not only that, but they are excellent sources of nectar and pollen for bees and other insects.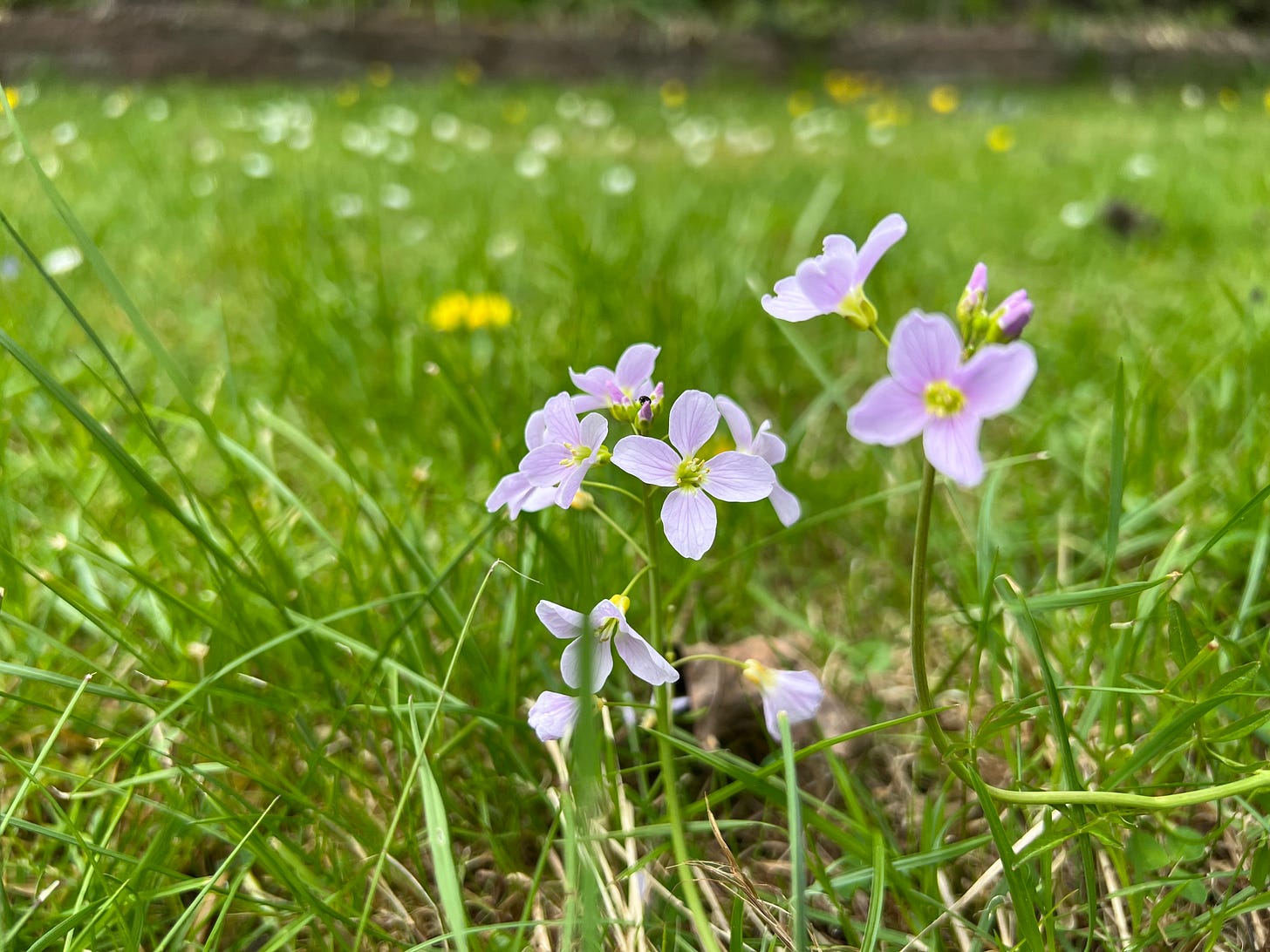 I enjoy taking part in No Mow May, partly because I love to see the grass in my garden come to life on a sunny day, with big fat bumble bees bouncing from flower to flower. Plus it's easy, you really don't have to do anything – an excellent propostition for the time-pressed amongst us. Less time mowing, more time to spend sowing seeds, keeping on top of weeds and planting up the summer borders – what's not to like?!
I hope that people aren't put off by the month-long commitment of No Mow May, or feel pressure not to mow – or worse, feel shame if they do mow! Gardening shouldn't be about guilt – it's about doing what's right for you and your garden. And if you are twitching at the sight of the grass getting up to your ankles there are plenty of things you can do to boost biodiversity during May.
🌼Mow your lawn if it's really getting too long and you can't stand the scruff – but choose an out of the way patch to leave uncut, or leave the edges to grow long instead.
🌼Alternatively if you're into a super-neat look then mow as usual, but consider planting up some containers with a wildflower mix in it, or some seasonal pollinator friendly flowers – pots of lavender, catmint, hardy geraniums or late spring bulbs will provide some goodness for the insects, with the added benefit of adding some colour to your garden.
🌼Do 'Minimal Mow May' – this is a less catchy name but is fun to say. Minimal Mow May is what I do – we have a back garden regularly used by family members and chickens, so it's a bit more practical to keep it fairly short – I usually do at least one cut during the month of May, leaving some wild edges and a patch of longer grass at one side. We also have a front lawn which sets off the borders nicely when it's neat, at least for a few days – all the dandelions and daisies tend to grow back very quickly anyway both front and back, so I never feel like I'm depriving the pollinators for very long.
Find out more about No Mow May at the Plantlife website.
The RHS has more tips on how gardeners can help pollinators here.